Vimy Painting Research, Events & Airbrushing Memorial
Apr 05, 2017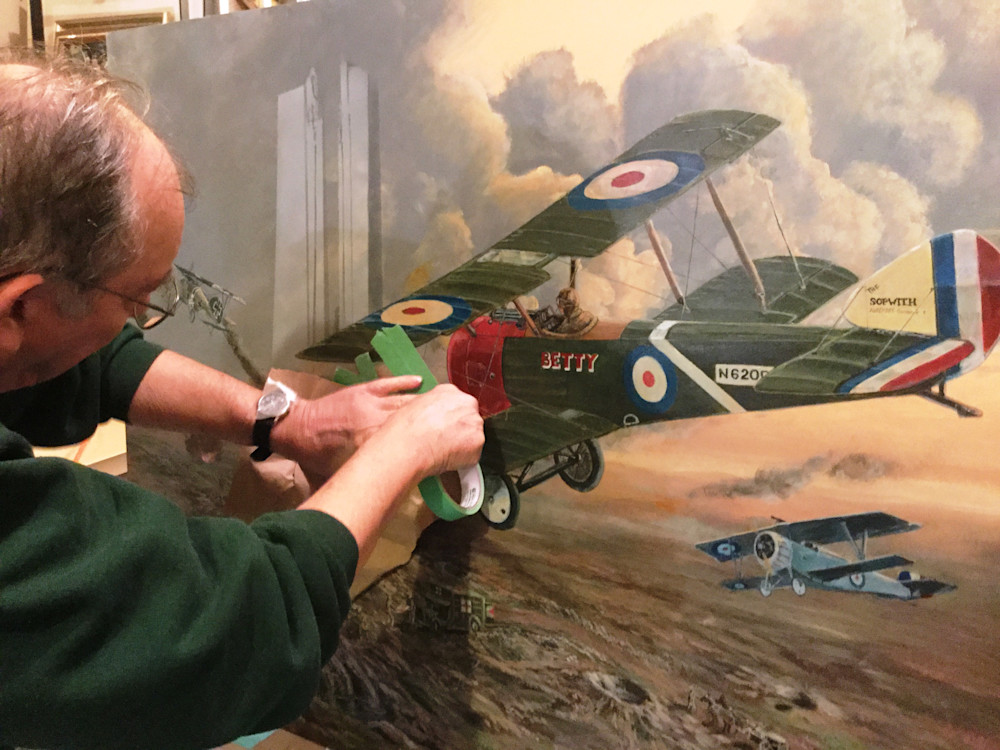 Doby Dobrostanski: In this photo, I'm working on masking the areas for airbrushing the base of the Vimy Memorial onto the canvas.
In preparation for completing the Victory at Vimy Ridge painting, I researched various reference materials to ensure that the Sopwith Pup aircraft that flew over Vimy Ridge was portrayed in accurate detail. I examined aircraft insignias and visited the Canadian Museum of Flight where a full-sized replica of the Sopwith Pup was built from scratch as part of the larger plans for Vimy 2017 commemoration activities. I aimed to make the painting of this plane and the WWI battle at Vimy as historically accurate as I could. Though I'm not exclusively an aviation artist, of the approximately 50 planes I've painted so far, I consider this project to be the apex of my career. I'm very excited about this!
EVENTS! CONNECT WITH ME IN PERSON!
This month, I'm pleased to participate in the Vimy Centennial Memorial event at the Texada Legion Branch 232 and at the Museum of Flight in Langley original painting unveiling. Artist prints will be available at both events and in addition, the Limited Edition will be available at Langley. Should anyone have any questions at all, I would be pleased to answer them (604-223-2588).
Sincerely,
Doby